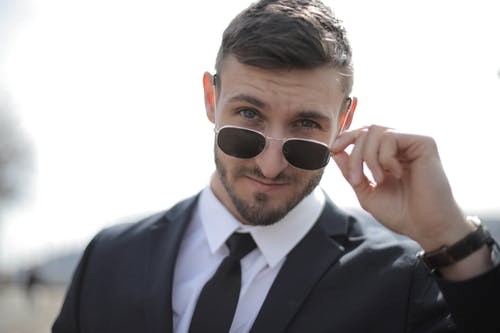 Oh, thank goodness for our fashionable friends across the pond. Just when I was dozing off while flipping through the last pics from NY Fashion Week (sorry Marc, sorry Donna…just not feelin' it this season), along comes London Fashion Week and with it all the concomitant frippery and frivolity that one expects from runway shows that are as much spectacle and style in many instances.
This is not to discount the designers that show during London Fashion Week, but rather to point out the obvious: "high" fashion designers are waiting for Paris, a couple of them for Milan. So, between all of the somber intellectualism of New York this year and the (hopefully) ground-breaking fall fashions to come from the Continent, we have London. Hooray for quirkiness and individuality! And since the Brits look like they're having so much fun, I decided to have fun, too, with what regular readers will recognize as my beloved Comic Book application.
I've picked out some of the best, most outrageous looks for fall from London. No matter that we probably won't see most of these in the states and – even if we did – we probably couldn't afford them. Let's just suspend reality for a moment and enjoy the wild side of fashion…
Let's recap, shall we? The use of color at top is unabashedly bold and a welcome relief from the inundation of gray, black, and khaki that so dominated in NYC. Betty Jackson's layered look is something I feel I could do myself. Grab a turtleneck from American Apparel or JC Penney, find a patterned dress with 3/4 length sleeves from H&M and go for it. Done. To truly appreciate Christopher Kane's layered paillette dress, you'll need to see the full length. But suffice to say that the bold red hues layered with the smoky grays is a look for evening that I'm hoping to find in a lower-end line. Duro Olowu's floor-skimming camouflage skirt was the "it" proportion of the London shows. These long, lean lines are not only flattering to a variety of body types (petites, be very careful!), but can be dressed up or down to go from Friday night soiree to Saturday morning sunny walk in the park, matched to perfection with some Tom Ford sunglasses. Definitely a keeper.
Have I ever mentioned that I have an extreme weakness for outerwear? While recently re-organizing my teensy-tiny garden apartment, I decided it was in my best interest to devote an entire rolling rack to nothing but coats. So – upon entry – one sees a colorized rack of wool, corduroy, cashmere, nylon, and knits that get me through nearly any type of incliment weather. Suffice to say that this trench from Aquascutum (I've loved this line for years and did you know it's been around since 1851? No way!) and the bubble, um, coat-like thing (I mean that in the best way possible) from Basso and Brooke will do little to protect you from sleet or snow or even a very light breeze, but they're so darn cool. And sometimes you need a piece of outwear for just that very reason.
These last looks fall into the category of "I would never, ever wear these…but they're totally awesome." Marios Schwab made quite a splash with his cut-out skirts and dresses with too-long sleeves and forward-looking fabrics. It's really refreshing to see something that pushes the sartorial envelope, even if the real-world applications of such styles are a bit ambiguous. Oh, and I've kept my eye on Sinha-Stanic for a couple of seasons and believe they just keep getting better. This color combination is fantastic and the look isn't so outrageous as to be unwearable, albeit with a longer hemline for both jacket and skirt. And the shoes? To die for…